Fun4Two Swimmingpool
Nothing is so wonderful to be able to cool off in the sunshine in your own pool. 
If you choose one of our accommodations with swimming pool, you can enjoy yourself here at the weekend every day.

Typically, our tropical plants like the many palm trees. 
Relax yourself almost everywhere or take a seat on one of the many chairs around the pool complex. 

Enjoy a weekend Fun4two by booking one of our accommodations with a private pool and take full advantage



Accommodations with pool
A stay in one of our accommodations with private pool is ideal for one or two couples, so together or with your friends, one, two or three days and nights memorable enjoy Fun4two.
But which accommodation suits you?
Benefits of our accommodations with private pools
•
Private swimming pool
•
Always wanted to have your own poolin the garden?
Enjoy this glamorous feeling, because the pool is all yours!
•
The price of a property can be shared by several people.
And then you also have your own private pool!!
•
Just like home
•
It's just like home but in a different environment.
Cook when you want, leave when you want or simply relax by the pool.


Poolparties Fun4Two!
During the summer months our garden is the center of the club by the famous pool / garden parties.

If the weather gods are on our side then, the club is on Sunday already opened at 14.00* hours.

So no traffic jams, plenty of parking and nice to be pampered on your own private pool with a delicious sangria or an ice-cold rosé.

And of course, snacks, fruit, tasty BBQ music and much, much more!

WE ALL KNOW
THAT ONE PLACE......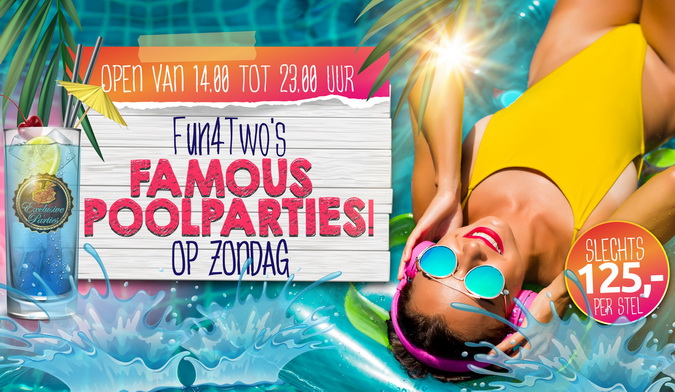 9 hours long Enjoy!
So 9 hours to enjoy the finest and friendliest club in the Netherlands.
And that only 125 euros s couple (members) Non members 145 euros.

Maybe for some guests one drawback that it namely very busy and very cozy SUN, SEX, FUN!

This is a summer Sunday in the FUN!


THERE'S NO PLACE LIKE..... FUN4TWO