Already 5x the best Pool Party in Moordrecht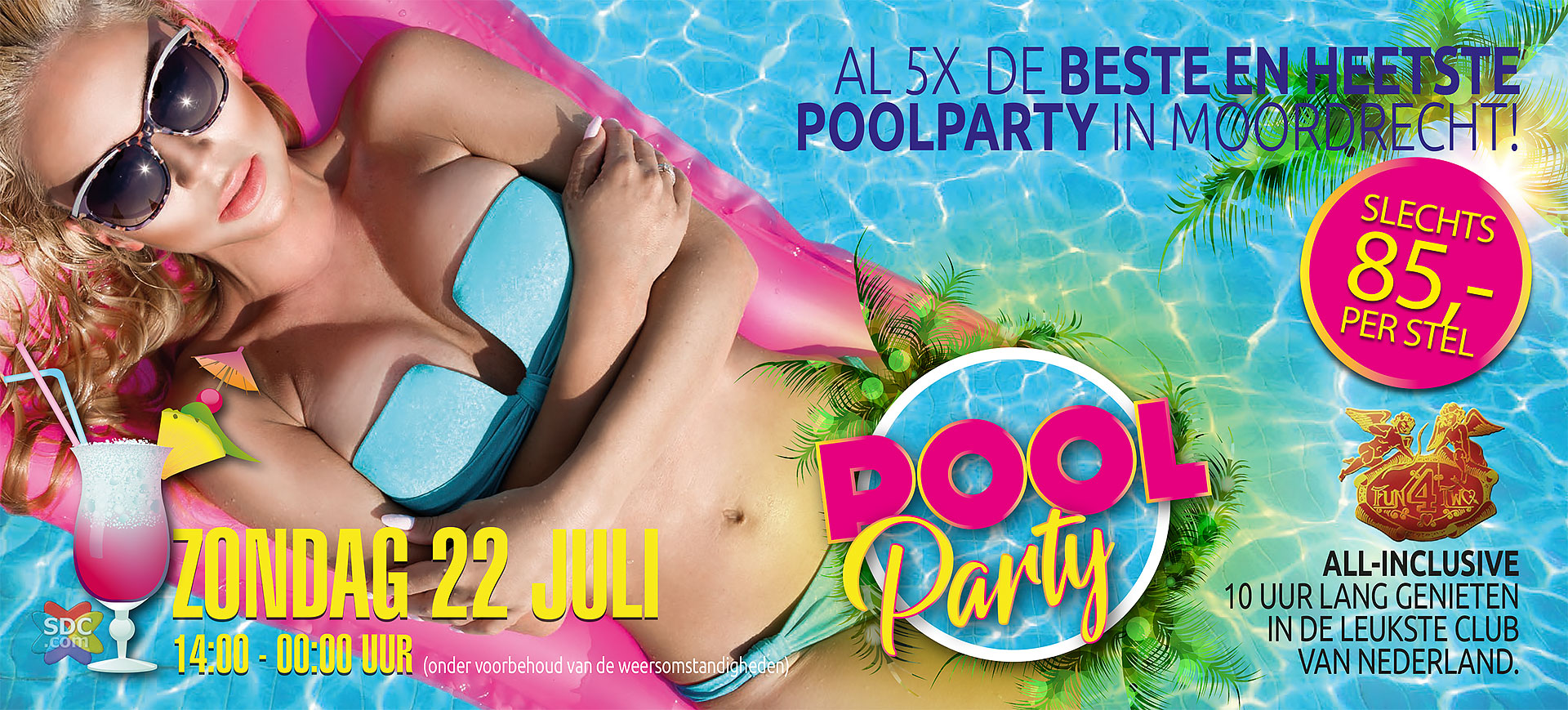 It is incredible but true! Already 5x the best and hottest Pool Party in Moordrecht!
As it looks, Sunday is again a super hot day. So we are going to make it another Top Day! For members only 85 euros per couple All Inclusive you can enjoy 10 hours in the most beautiful and sociable club in Europe!

• The club is open from 14:00 tot 00:00
• No Files
• Full parking
• Get spoiled by your own private swimming pool with a delicious Sangria or ice-cold Rosι
• Plenty of snacks, fresh fruit and ice creams
• Enjoy our BBQ
• Full food & drinks in our great restaurant
• Top music with our DJ
• Of course the nicest people

The normal opening times are maintained when the weather is less nice. Given the always changing weather in our little country it is therefore advisable to call to see if the weather in Moordrecht is so nice that the garden is already open at 14:00. Direct hotline with the Fun: Call 0182-378724

What we do ask of you is to bring your own bath towel and sunscreen. So come time if you want to lie by the pool, because it becomes full and sultry cozy again. And if the weather is not so nice, we will of course make a top party! Regardless of the weather conditions, it is always party in Fun4Two!

* SPRING ACTION ARE NOT VALID AT POOL/FOAM PARTIES! Reservation/Registration!
It gets hot again in Fun4Two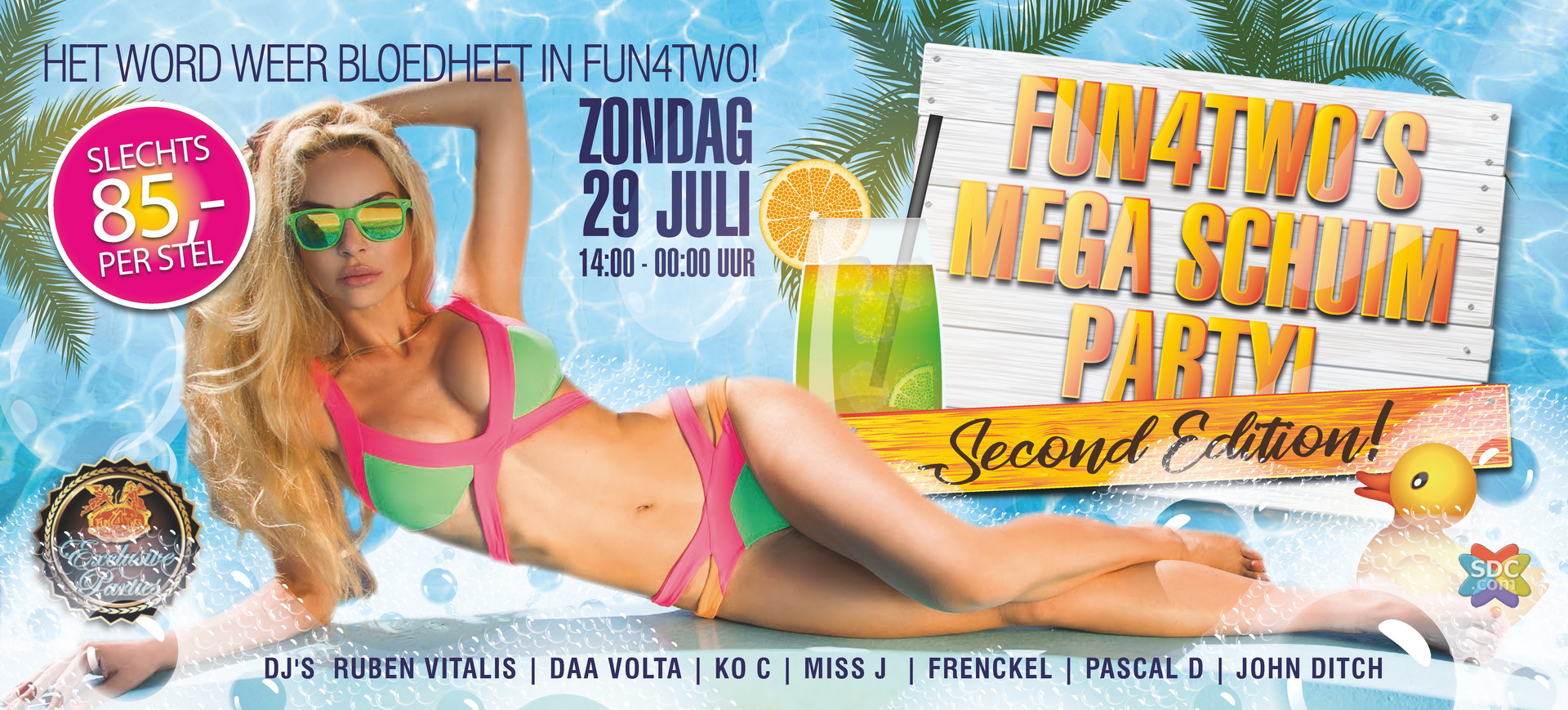 AMAZING!!! That was the first edition of our Mega Foamparty!
No mattress, no bed yes not even a sun lounger there was more to find this Sunday, actually there was not even a piece of grass to be found. BOM and BOMVOL was of course in the FUN with the nicest and most beautiful people from the Netherlands and other parts of the world. What a party that was! Everything was of course gigantic, the beautiful weather, TOP music, the very best DJs, the nicest people and much more. CAP'AGDE is nothing at all according to many! Have you missed the 1st FOAMPARTY of this year? Then you have the chance to experience the last of 2018 on Sunday, July 29th.
YOU DO NOT WANT TO MISS THIS!!!!

* SPRING ACTION ARE NOT VALID AT POOL/FOAM PARTIES! Reservation/Registration!
Fun4Two Special Events Cleopatra!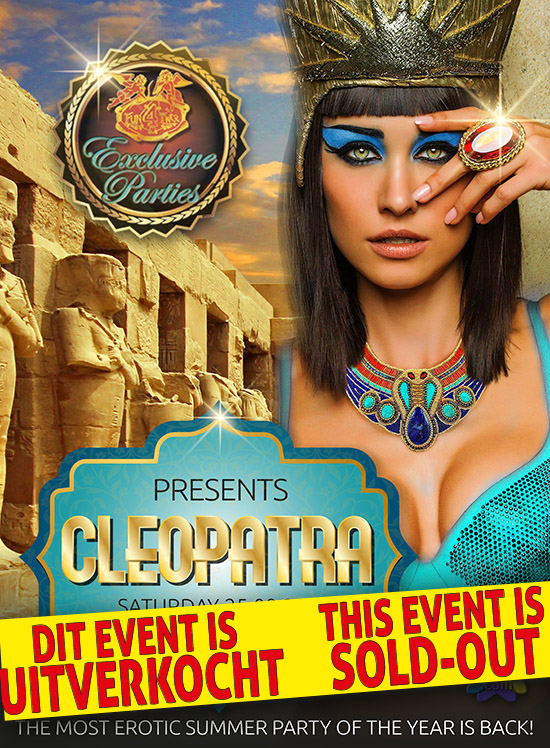 TICKET SALE STARTED!

Fun4Two Exclusive Parties Presents:
Saturday 25-08-2018 | 21:00 - 04:30
The Most Amazing & Biggest Erotic Summer Event of the year returns!
DJ'S: PETER WOODZ | COR FORMAN | RUBEN VITALIS | MIKE S | KO C | PEDRO | DAA VOLTA | JOHN DITCH .

This year we are going to go all out with the most amazing DJs, great shows, light and sound at the top level, decoration and so on as you are used to.
DRESSCODE
Ladies: Sexy Harem look, like a Belly Dancer.
Men: Harem look, like a Sultan, white or black trousers with slippers (no sneakers - no jeans).
TICKET SALES HAS BEEN STARTED THROUGH OUR WEBSHOP!
As mentioned before, Fun4Two Exclusive Parties will again come from a good house and the club and everything that goes with it will turn into an Eastern place with a more than Egyptian touch. Exotic butterflies, tropical palm trees, a decor full of harem furnishings, bedouine shelter, fortune teller with tarot cards, fire and dance act, snake charmers and a full harems atmosphere will turn the evening into a legendary summer night.
Put this party quickly with a big pen in your diary
!
Information and Tickets!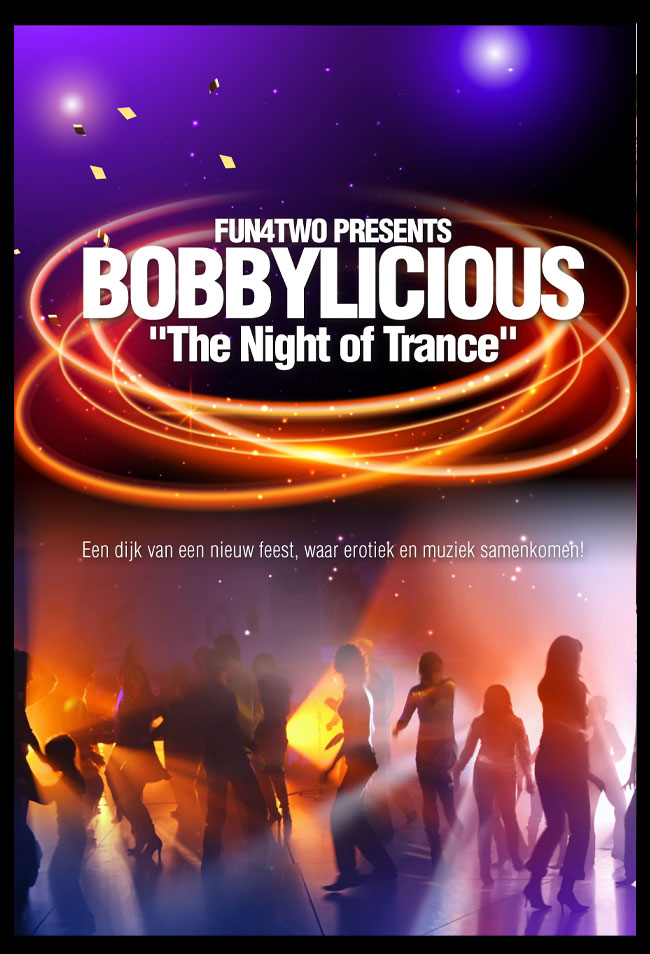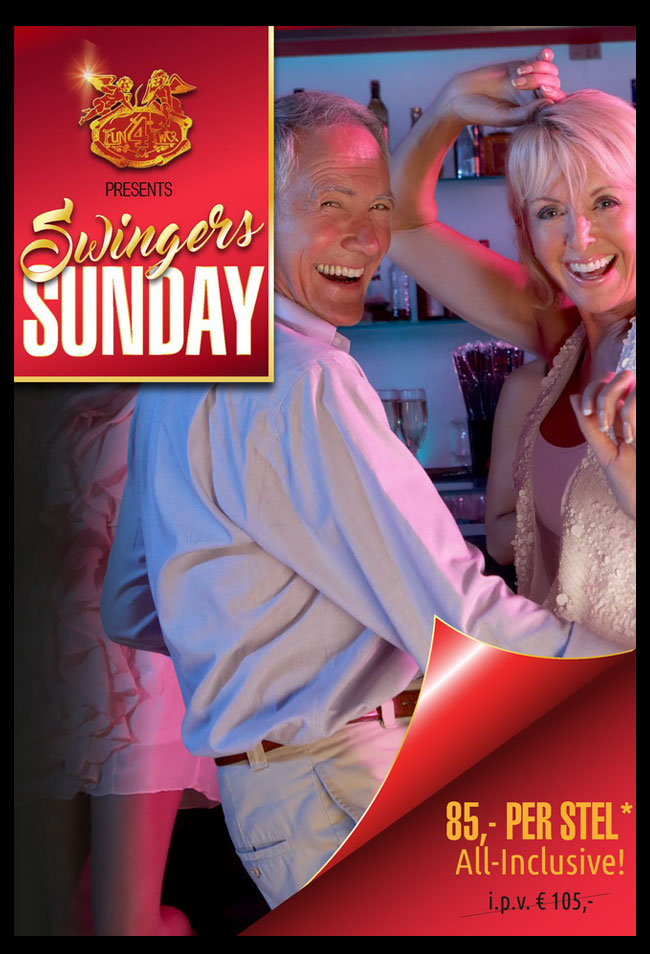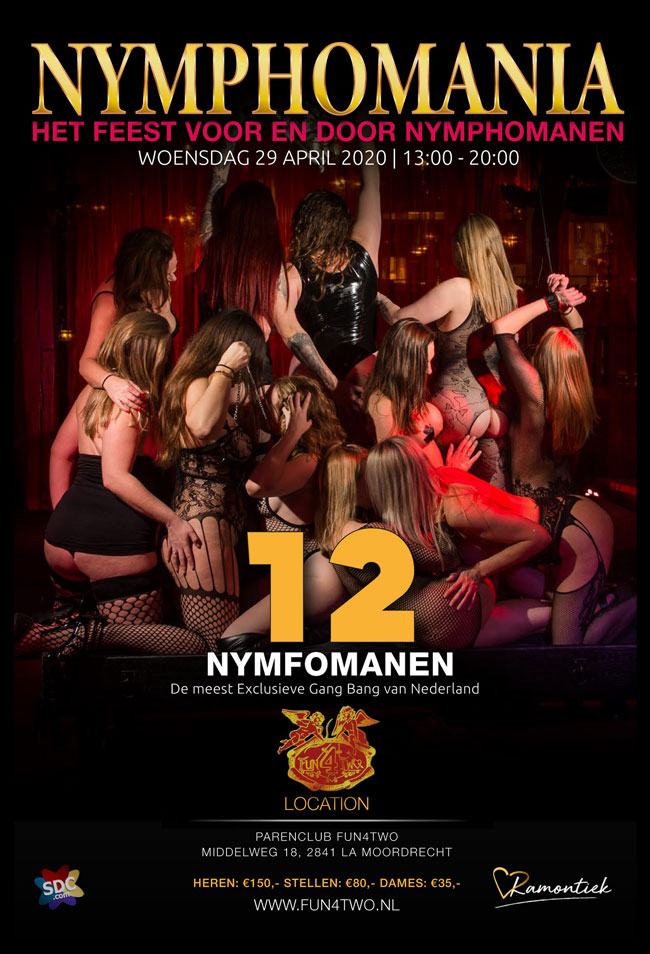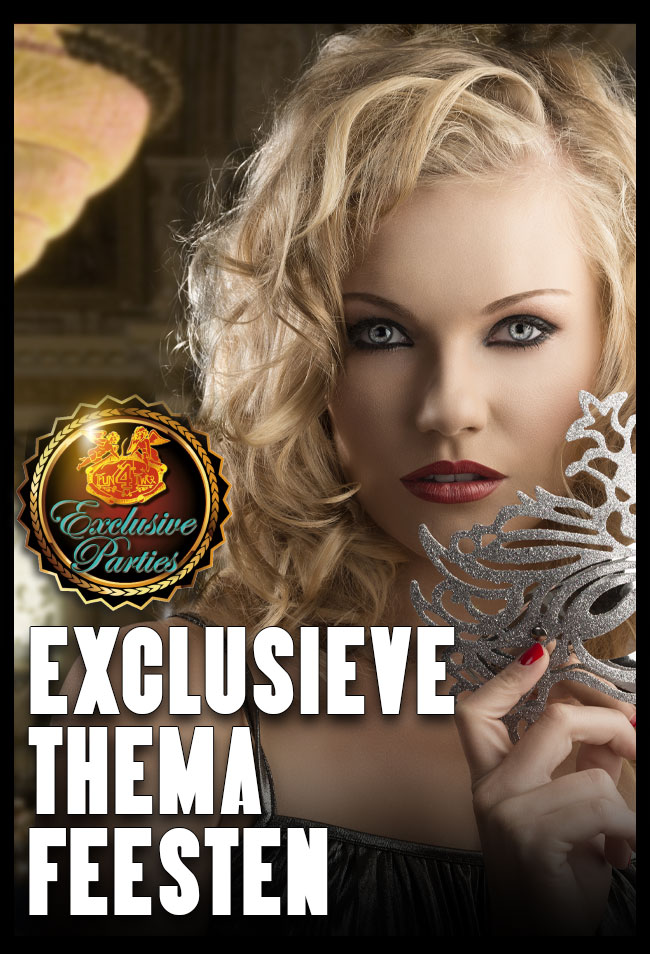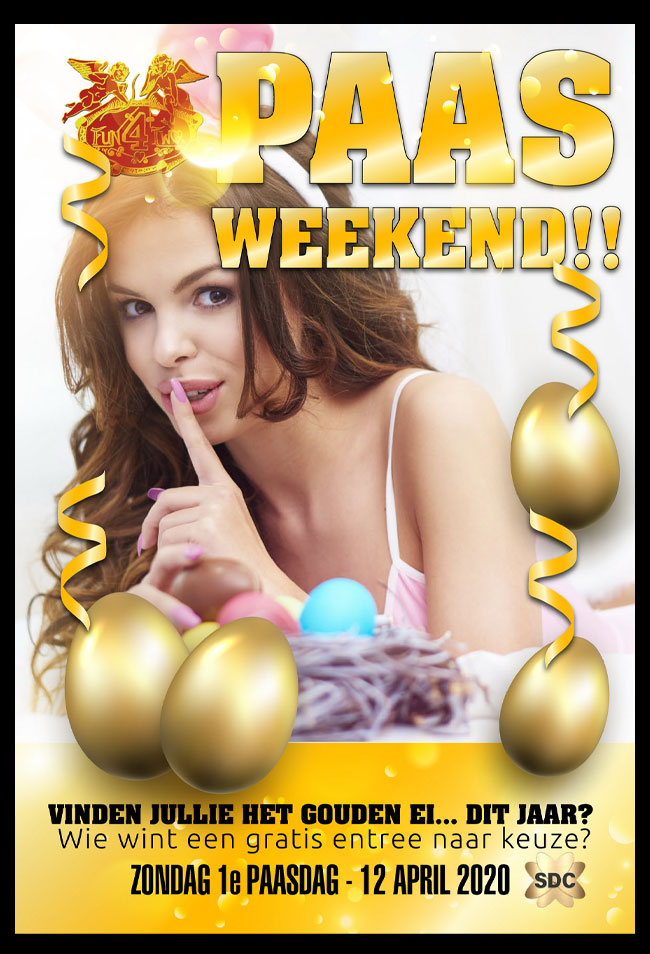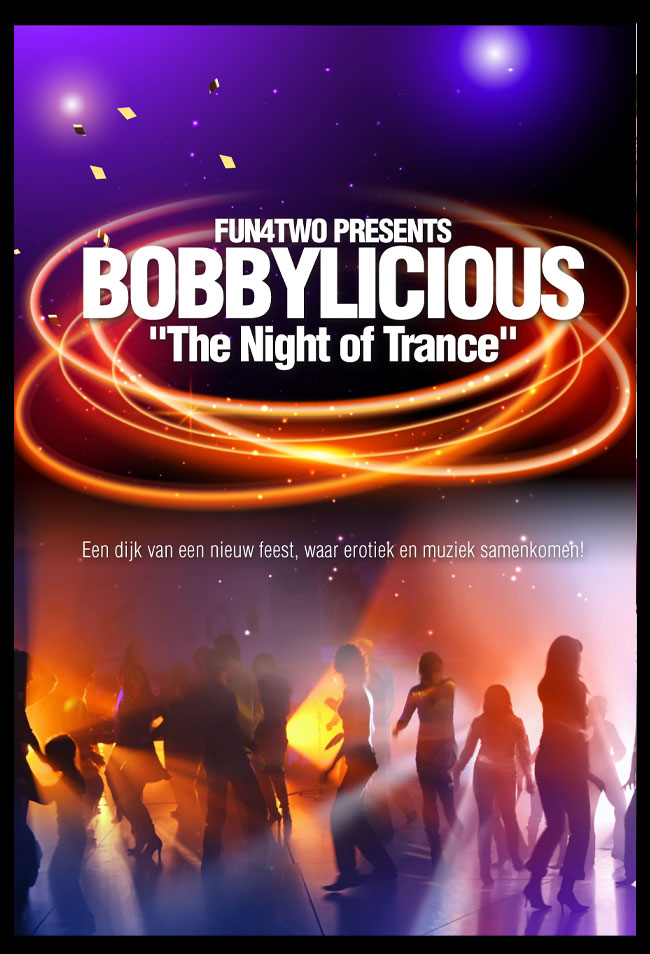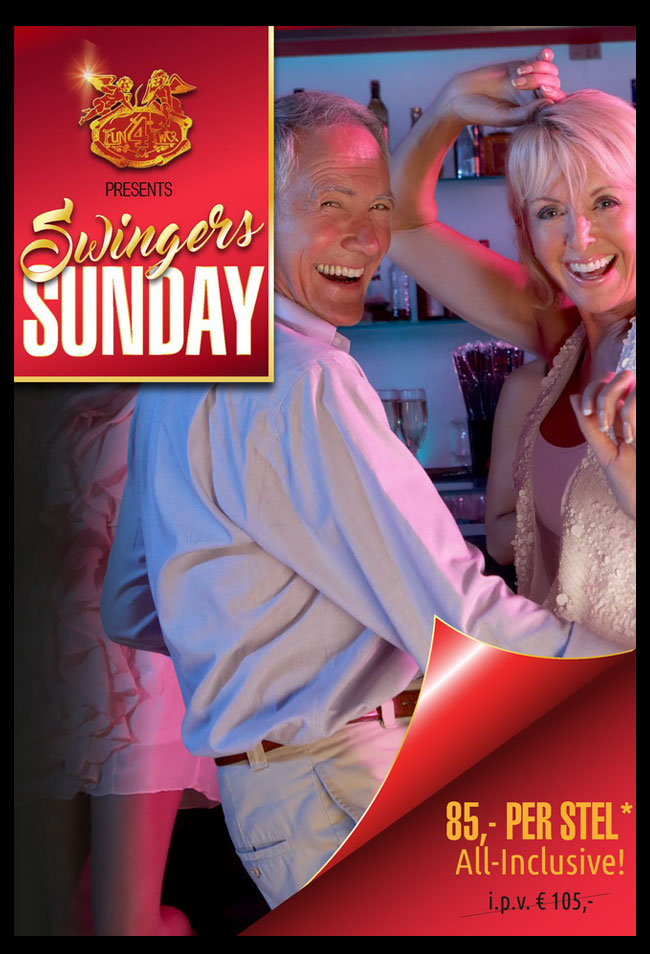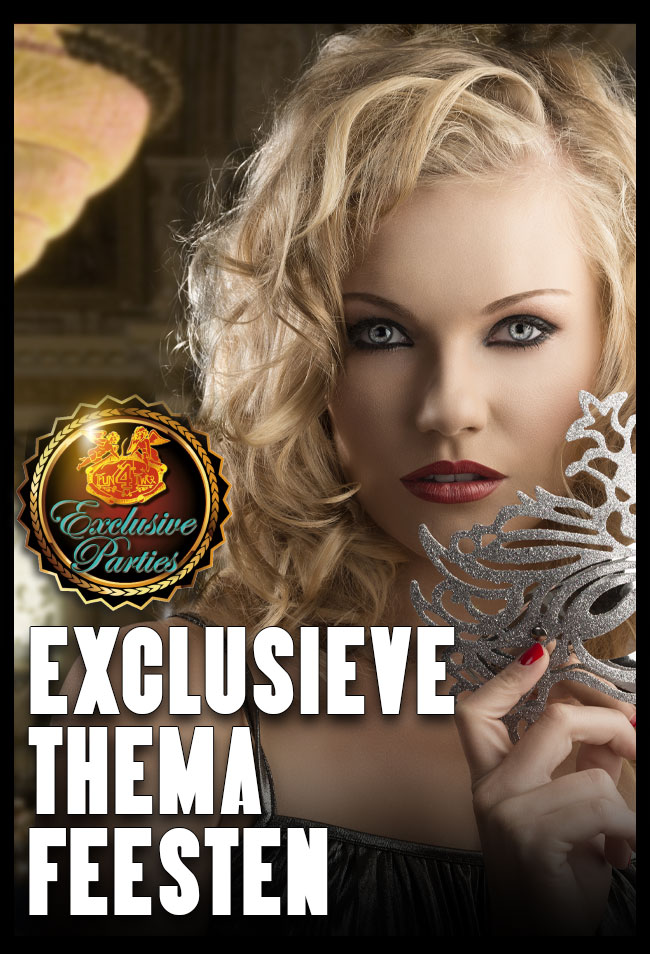 Theme parties in the Fun! Unprecedentedly popular!
Who does not know them, most people have undoubtedly heard about it. The beautiful people, the entourage, the decoration, the DJs, the music, the atmosphere, the sex, you can not find this in any other club. So now again a wonderful new theme Welcome to the Jungle with the very best DJs like Tony da Groove * Cor Forman * Santito * Ruben Vitalis and much more come to believe us a frenzied feast.
View all Fun4Two Theme Parties!!
Fun4Two Weekend Program WK 29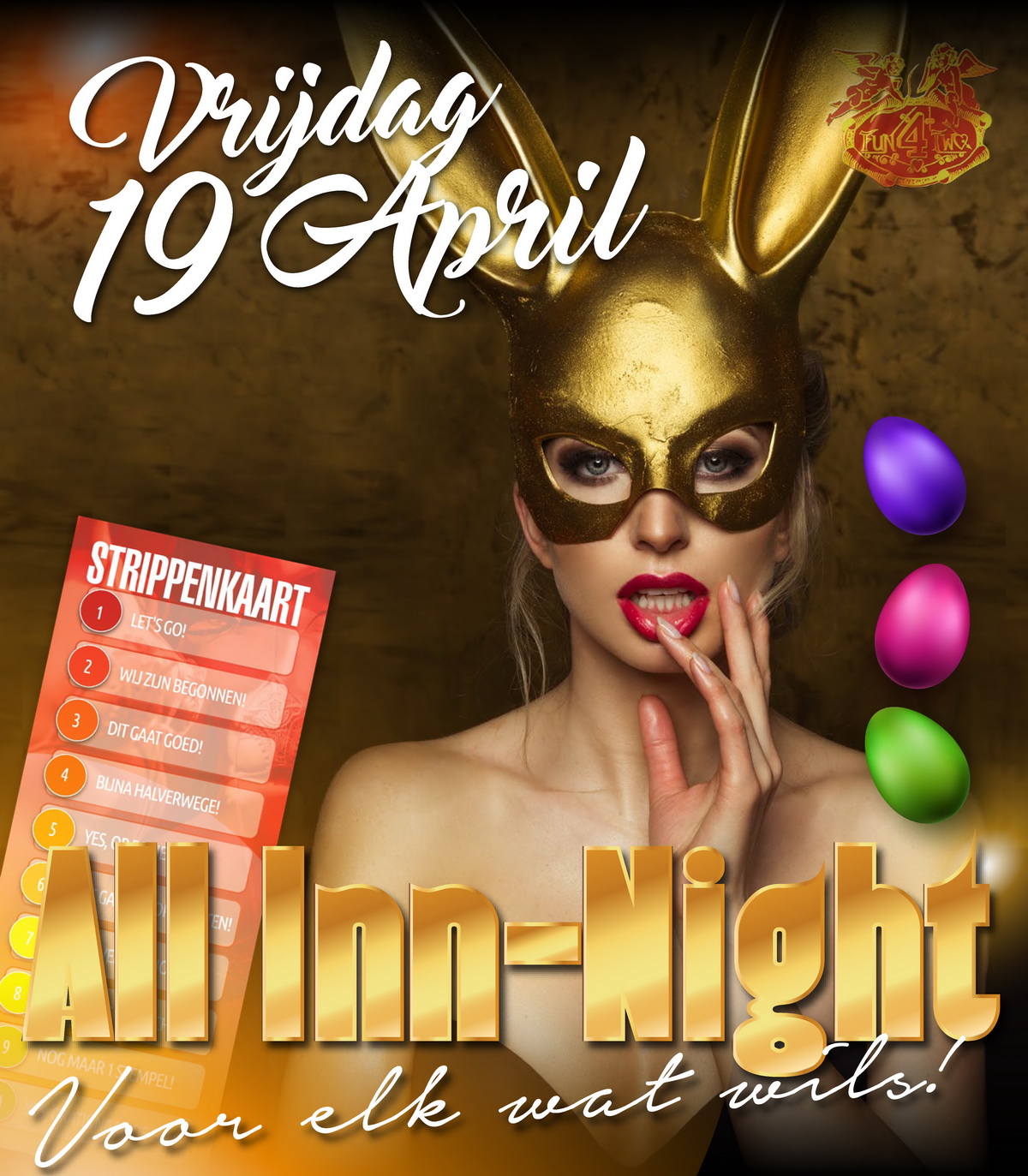 The weekend of 20, 21 and 22 July with a Caribbean menu in our restaurant!
FRIDAY 20 JULY
Every third Friday of the month is the theme ... Fun's All Inn Night!
Fun's All Inn Night! HIGHLY LOOKING FOR AN EXTRA FRIEND OR FRIEND SAFETY? Fun's very special mix of all themes together ... for every Wills. Many couples find this evening the best night, because they can bring an extra boyfriend. An extra girlfriend is always allowed! Tasty Gigolo's ... are also present at Fun's ALL-INN NIGHT. Are you (a little ??) bi, or do you have a Little Bi feelings, especially come! And it can come of it ... Spontaneous sex on the dance floor with that nice dancing man or woman? Or just enjoy the two of you or with that other couple enjoying each other? This is only possible in Fun4Two! And that for only 95 euros per pair! Ennnuhhhh .... ALL-INCLUDING of course !!!
SATURDAY 21 JULY
Of course they are back again! The nicest and most beautiful couples, they are actually every Saturday night. We can not ignore it, it's just a fact ... Fun4Two is and remains just the best swinger club in Europe. In all other clubs you are also on Saturday with only a handful of couples at the bar. But not at the Fun !! Always fun busy * nice people * super cozy atmosphere * great food and also the best music. You can bet it will swing this Saturday. Not for nothing is Fun4Two said? If only we had known that before ...
SUNDAY 22 JULY
IT WILL NOT?!
In the Netherlands we unfortunately can not plan ahead in advance, because otherwise we would of course have known. Then we could have captured such an unparalleled POOLPARTY again. For this Sunday we have a nice weather and a less beautiful weather option. In very nice weather we make another stunner from a POOLPARTY. Of course with a number of TOP DJs that we will announce later. The guests who have already experienced such a POOLPARTY often know that we are really building a party. Is it unfortunately less beautiful weather than it is definitely within a super fun Fun evening. If the weather is really nice (clear blue sky, at least 25 degrees) Unfortunately in the Netherlands it is impossible to predict whether the weather will be such that Fun4Two's Pool PARTY continues. That is why we advise everyone to consult the website on the day itself or call 0182 378724 after 10.00 am to have certainty about this. Sunday = Funday in Fun4Two. Reservation/Registration!
Fun4Two Hardcore Night!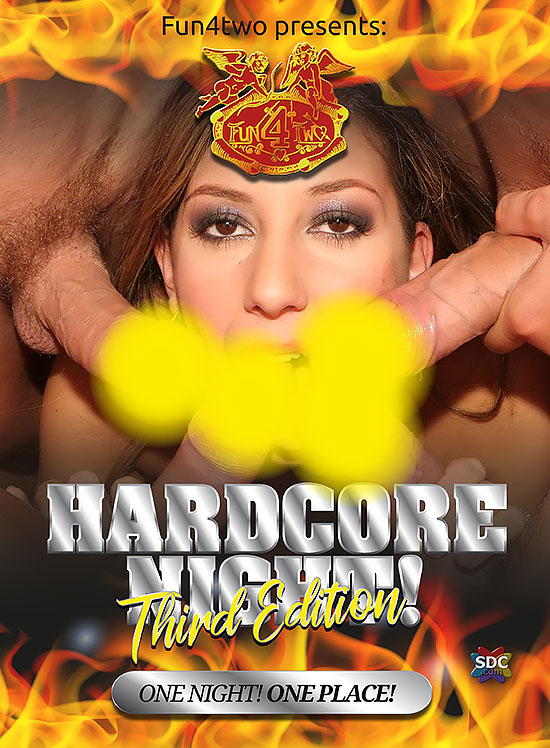 THE TICKETSALE START 14 JULY - 10:00 HR
Friday 31-08-2018 | 21:00 - 03:00

Terugblik vorige edities
Undoubtedly, you have already heard about it! Because a lot is spoken about this Friday evening theme. The first and second edition were sold out in no time! The club completely converted as a porn set, perfectly decorated and then fully booked. Unfortunately, we had to disappoint many guests but there was simply no more room! Unfortunately also hundreds of foreign guests who sent far in advance emails, and wanted to travel far beyond the borders to Moordrecht to be present on this evening.

HARDCORE NIGHT is an evening only for ACTIVE MEMBERS.
This way we keep the strength of this theme very strong! With Hardcore porn * Live shows * HARDCORE NIGHT has become the best, busiest and most popular evening! An evening that one will not find anywhere in the Netherlands! This is what people are looking for! HARDCORE NIGHT is an evening that is not meant for softies or only viewers! And even now it is unbeatable!

Buy your ticket for the edition of August 31 through our webshop!
Next editions HARDCORE NIGHT 2018 November 23 * last edtionInformation and Tickets!
Fun4Two Spring fever!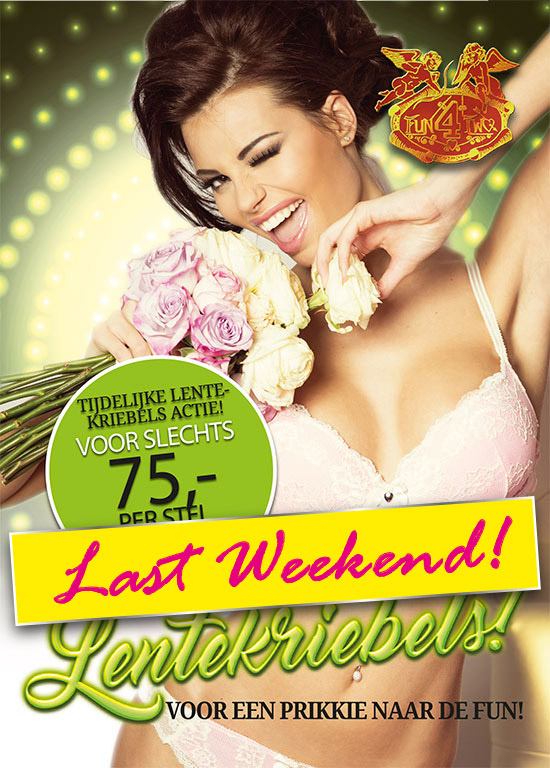 TEMPORARY ACTION | FOR ONLY € 75, - PER COUPLE TO THE FUN!
Yes, you read it right! We give you the opportunity to visit the best and most enjoyable club in the Netherlands on Sunday for only € 75, - per couple! And of course ALL-INCLUSIVE! And just believe us .... the Chinese is more expensive!

1 * Unlimited food.
2 * All drinks from the house.
3 * Dancing & shewing.
4 * Sexes & relax.
5 * Enjoy our beautiful wellness.
6 * Just everything, a whole evening long (8 hours of fun).

*Pay attention! The promotion runs from 8 April to Sunday 7 October 2018.
* Exclusive membership. * Not valid on holidays & pool parties!
Reservation/Register!
Fun4Two Cleopatra 2017 video! It was fantastic!
Full sound and watch it!
As you might know, the exclusive parties in Fun4Two are not just a party. No, it takes a lot of preparations in advance! For more than 3 days we are busy with the decoration for the party. To give you an idea, we are happy to give you a look behind the scenes and an impression of all the decoration for "CLEOPATRA" 2017.
View all Fun4Two videos!
Fun4Two Event Calendar 2018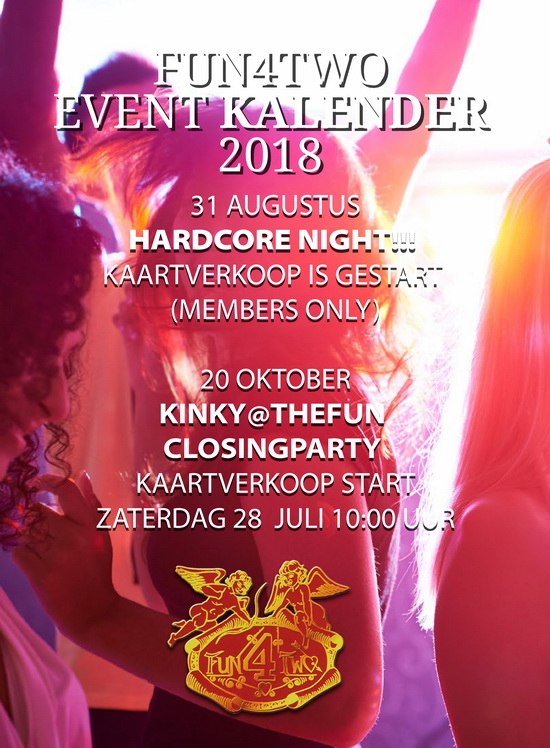 • 25 August -
Cleopatra

• 27 September -
Ladies Night

• 20 October -
Kinky @ The Fun

• 17 November -
Eyes Wide Shut

• 08 December -
One Night Only

• 26 December -
Naughty Christmas

• 31 December -
New Years Eve
Fun4Two contact!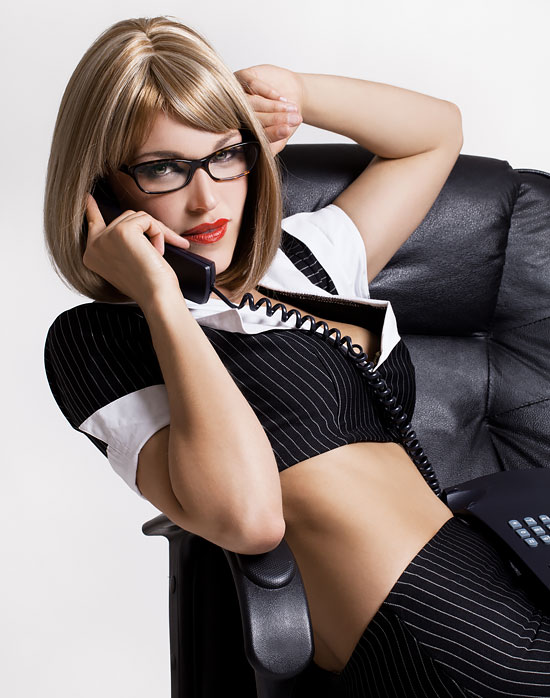 Address:
Swingersclub Fun4Two
Middelweg 18
2841 LA Moordrecht
Information number:
+ 31 (0)182-378724
Reservation number:
Reservations are required for Saturday night, our special reservation number is: +31 (0) 182 378 528
E-mail:
Information: info@fun4two.nl
Bobby: bobby@fun4two.nl
Linda: linda@fun4two.nl
Reservation: reserveren@fun4two.nl
New members, we recommend to visit, register on our reservation page. This is possible not later than one hour before julllie visit. Registration is also possible at the club but then you must take into account long queues at the entrance!
To make an online reservation using the button below!


Reservations/Register!