Fun4Two Special Event Welcome to the Jungle!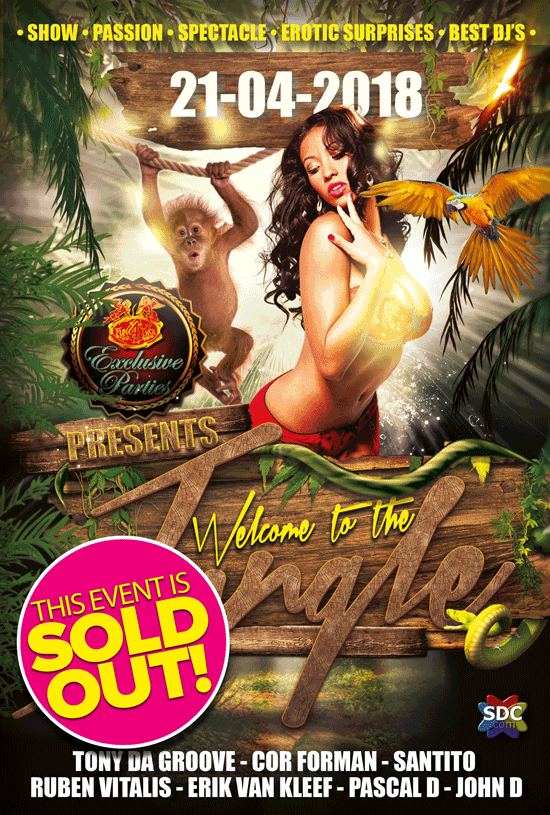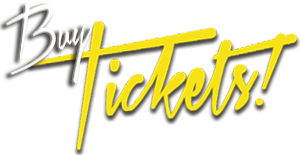 We welcome you to the most beautiful Erotic party experience! We welcome you To the Jungle!
| 21-04-2018 | 21:00 - 04:00 |
WELCOME TO THE JUNGLE!!
Is a compelling dance happening where the most beautiful people from home and abroad come together for a sizzling evening. Famous for its party atmosphere, the unique entourage, this party is located in the beauty of Moordrecht and known in the Netherlands and Europe as the no.1 swinger club. The party is in the theme of the African jungle. Imagine how the jungle looks like in the Fun at night, while listening to the best DJs, who let you enjoy superb music. A lot of Dj's music of unprecedented class will be present:
DJs: Tony da Groove - Cor Forman - Santito - Ruben Vitalis - Erik van Kleef - Pascal D - John D.

DRESSCODE:
LADIES: All clothing in Animal print, Camouflage, Tarzan & Jane outfit (one can return the prints everywhere: dresses, pants, skirts, scarves, accessories and even in your shoes).
MEN: The dress code is (African) Casual. Consider for example all clothing in Animal skin / print, Camouflage & Tarzan & Jane outfit and cool short or long army pants in the colors green & khaki, or cool underwear.

TICKETS MEMBERS:
Early Birds € 140 per couple All-inclusive (100 available)
Ladies € 70, - All-inclusive Normal € 155, - per couple All-inclusive.

TICKETS NON MEMBERS: (prices including membership)
Early Birds € 160, - per couple All-inclusive (100 available)
Ladies € 70, - All inclusive Normal € 175, - per couple All-inclusive.

THIS EVENT IS SOLD OUT!!More info and tickets!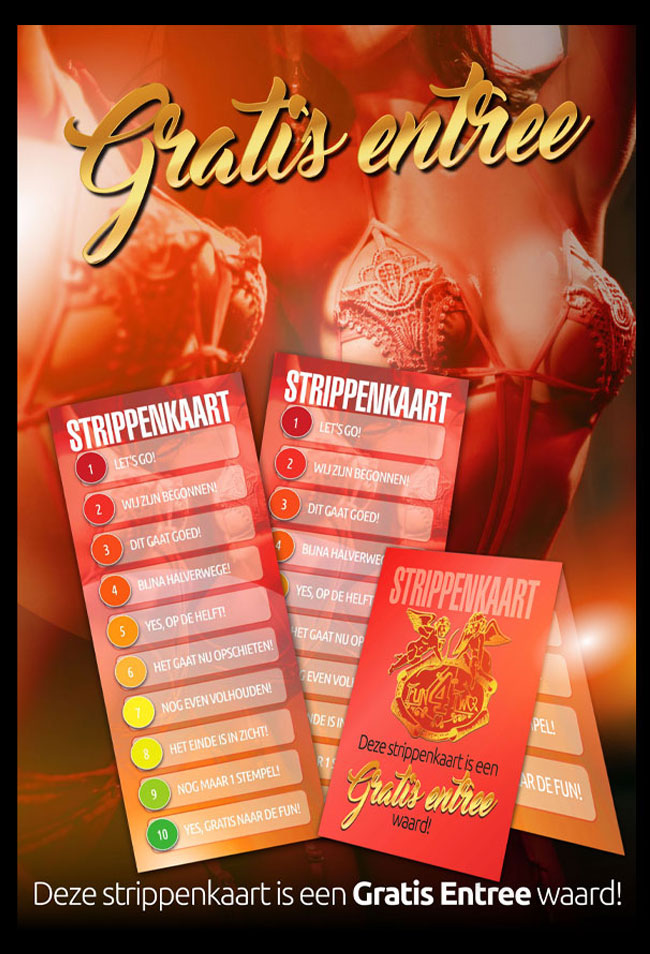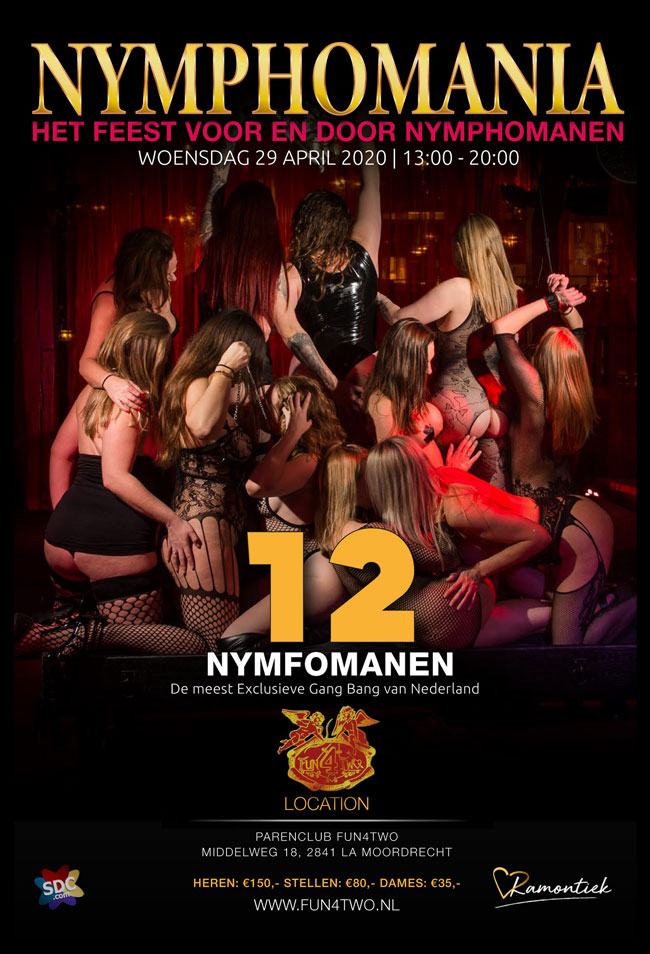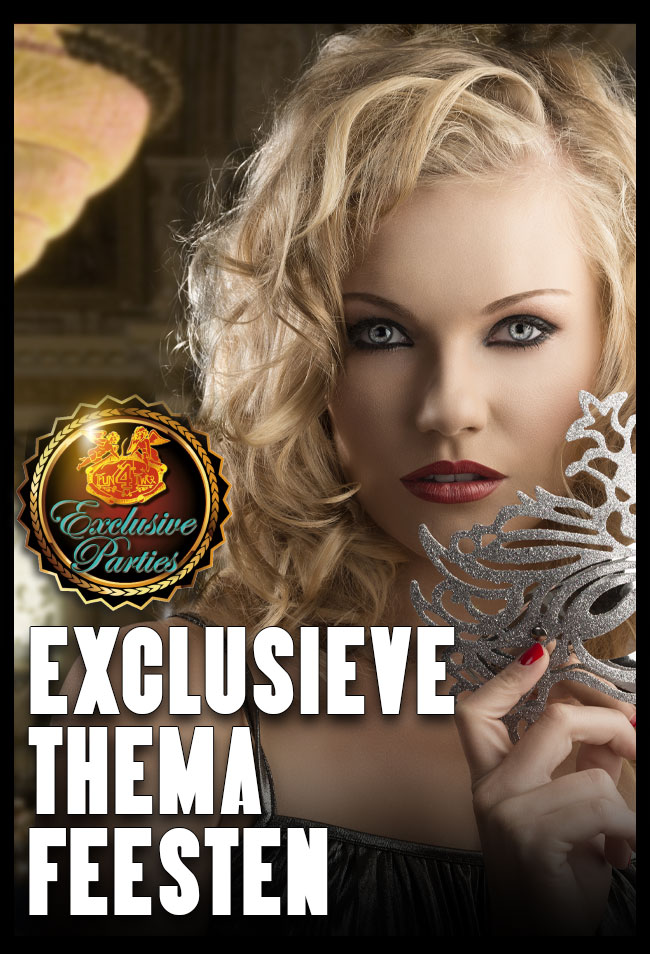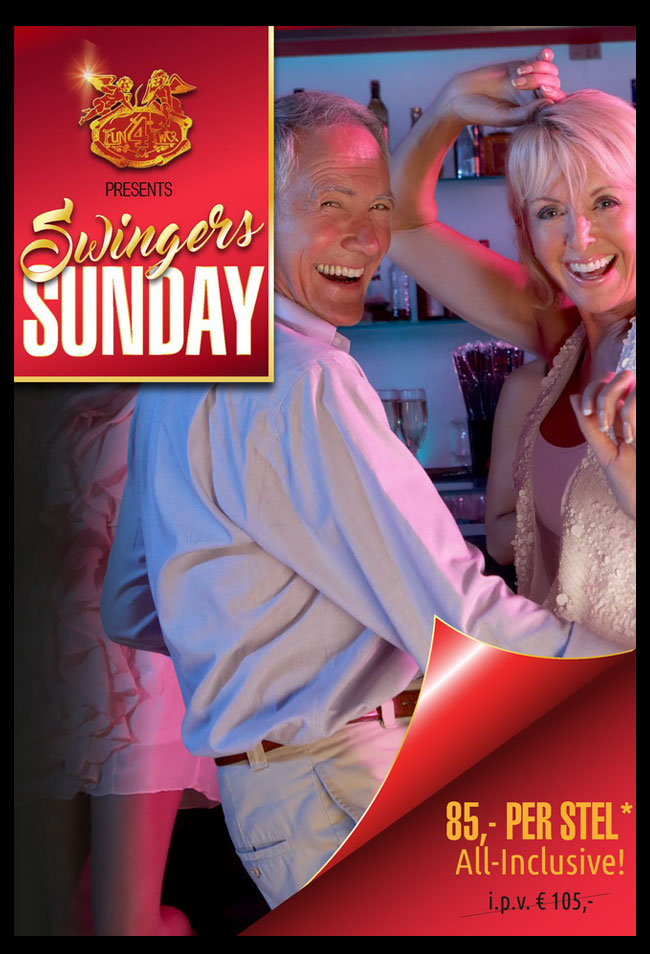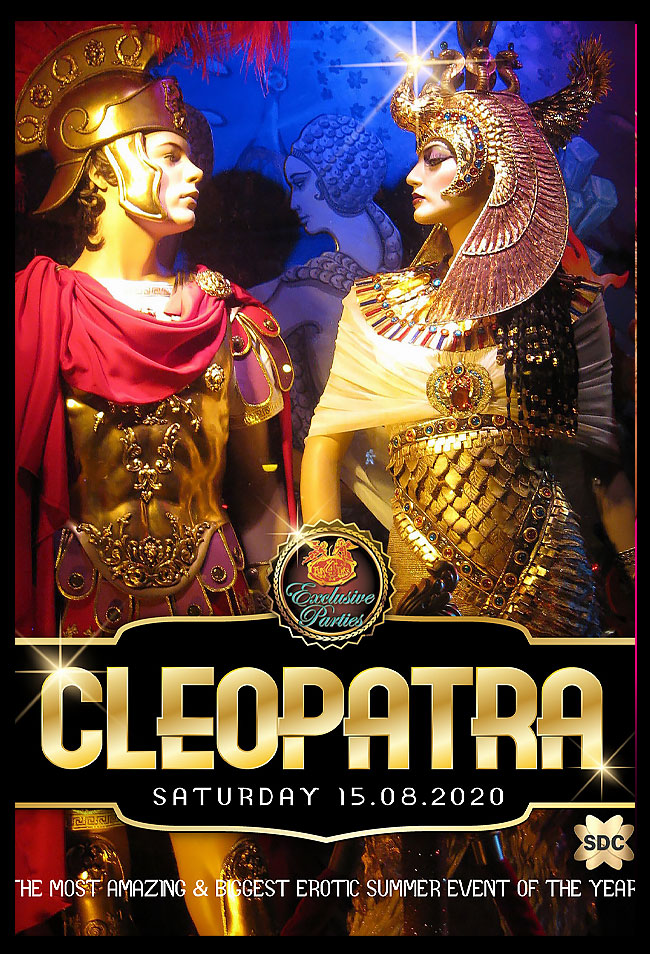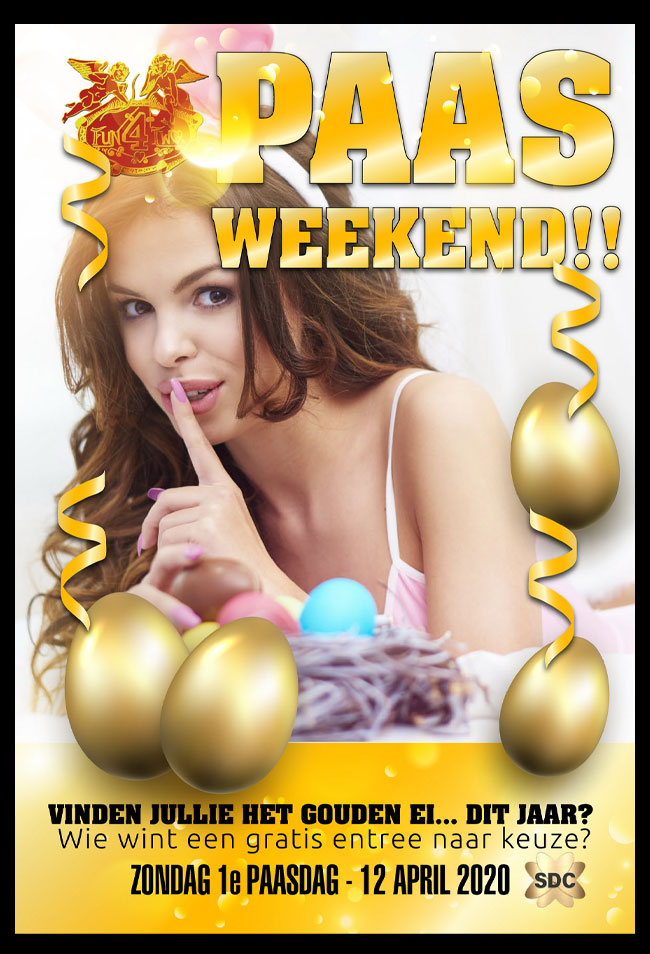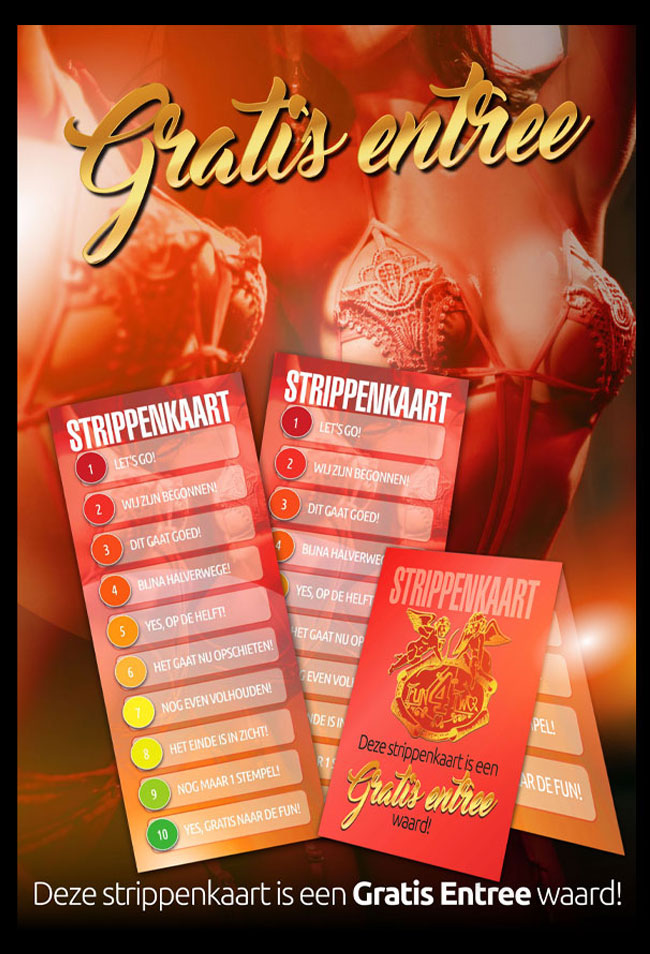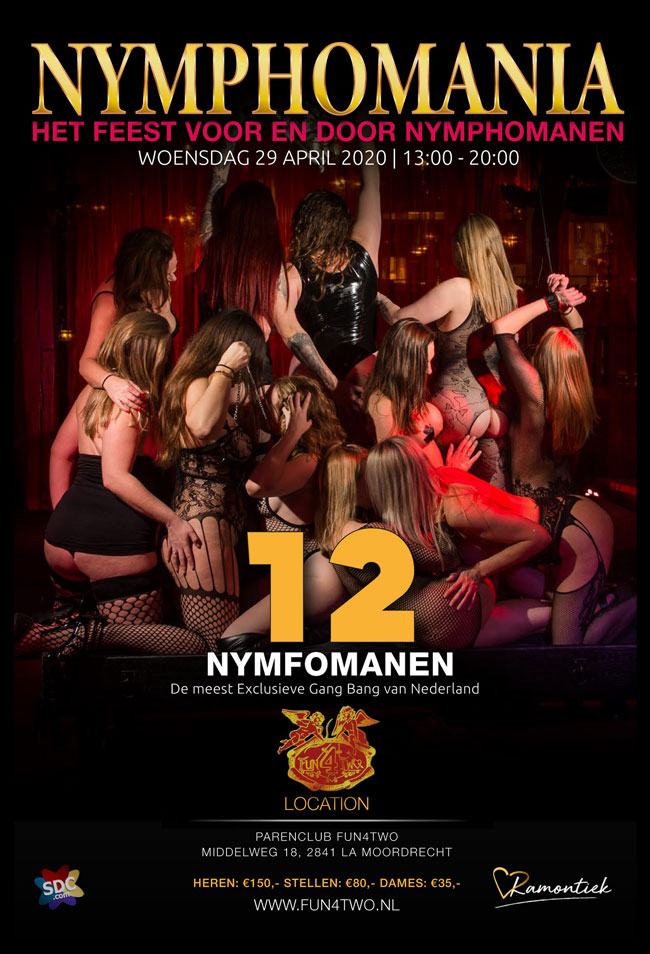 Theme parties in the Fun! Unprecedentedly popular!
Who does not know them, most people have undoubtedly heard about it. The beautiful people, the entourage, the decoration, the DJs, the music, the atmosphere, the sex, you can not find this in any other club. So now again a wonderful new theme Welcome to the Jungle with the very best DJs like Tony da Groove * Cor Forman * Santito * Ruben Vitalis and much more come to believe us a frenzied feast. The Early Birds are almost sold out so grab the advantage and buy your Early Bird ticket via this link.
View all Fun4Two Theme Parties!!
Fun4Two Weekend Program WK 16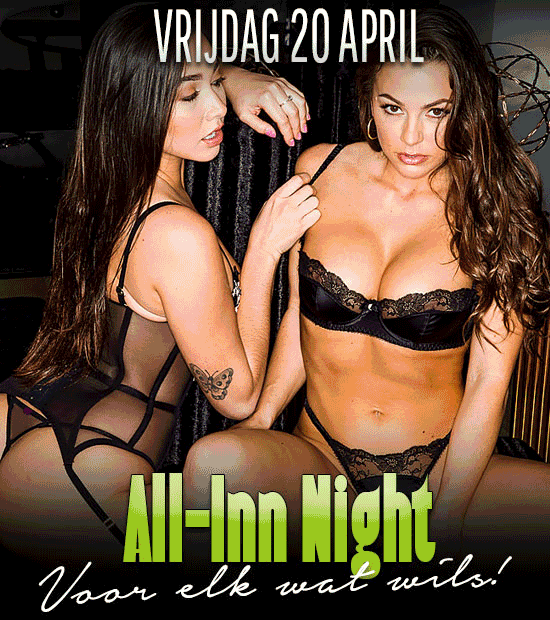 The weekend of 20, 21 and 22 April with a Italian menu in our restaurant!
FRIDAY APRIL 20
Every third Friday of the month is the theme ... Fun's All Inn-Night!
THE MOST SPECTACULAR WEEKEND OF 2018 !!! From Tuesday, April 17, we are already working to transform the club into a big jungle! You do not know what you are seeing this weekend. Because we spend days decorating the club, we decided to make it a whole weekend! Of course we start the Friday with FUN'S ALL-INN Night For many couples THE EVENING. Why? Because it is allowed on this evening for couples to bring an extra friend. An extra girlfriend is also allowed, which are of course welcome every night. For your extra friend or girlfriend you pay only 50 euros extra. And ... there are again delicious gigolo's around to enjoy. The two of us, with the three of us or whatever you want. Because that's where most guests come for: tasty SEX. That is allowed everywhere on this evening ... except (and that is actually quite understandable) the restaurant area! In short, all themes are put together again. Fun's All-In Night, according to many guests the nicest and tastiest Friday night of the month!
SATURDAY APRIL 21
WE WELCOME YOU TO THE JUNGLE! THE SENSATION OF 2018! THIS EVENT IS SOLD OUT!!
It's time!!! We are still busy this Saturday afternoon to make the club ready for decoration, and believe us this party is going crazy !!! A dike of a new theme party in the Fun4Two! Of course completely sold out on this date! Unprecedented popularity are our theme parties at home and abroad. The most beautiful people, the very best DJs, the best music, the unique decoration, the atmosphere, delicious wellness and what to think of our Play rooms that are full of sexing guests. Here the LINE UP of the DJs: Tony da Groove * Cor Forman * Santito * Ruben Vitalis * Erik van Kleef * Pascal D * John D. Do not miss it, because it will be fantastic !!! THIS EVENT IS SOLD OUT!!
SUNDAY APRIL 22
Also this Sunday it will be nice and busy in the Fun! Many guests who could not be there yesterday but still want to enjoy, among other things, the beautiful jungle decoration in the Fun. Of course not possible, because for a crazy price of € 75, - per couple, good going where you also meet many nice people, then you will be crazy to stay at home. As always, great food & drinks, dancing & shangling, sexes, relaxing in our sauna, steam bath, whirlpool and much more ..... So let the whole thing go and just go out!

Fun4Two, the nicest and most exciting Couples Club in the Netherlands!Reservation!
Fun4Two Spring fever!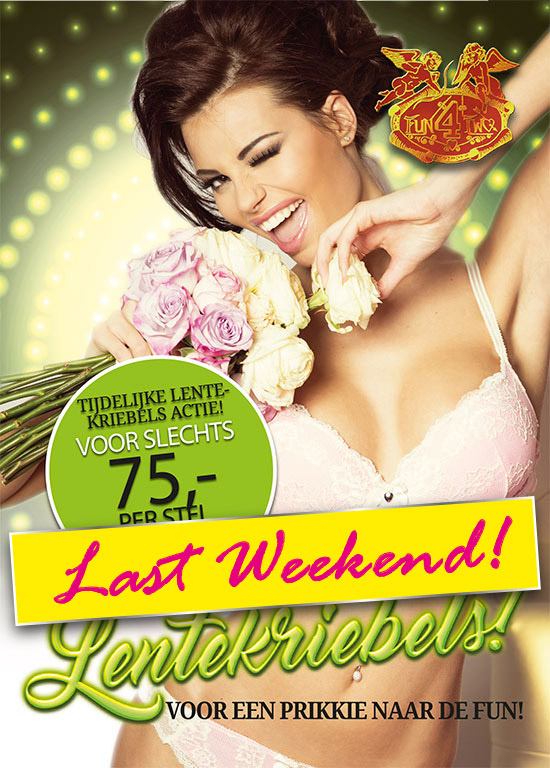 TEMPORARY ACTION | FOR ONLY € 75, - PER STEL TO THE FUN!
Yes, you read it right! We give you the opportunity to visit the best and most enjoyable club in the Netherlands on Sunday for only € 75, - per couple! And of course ALL-INCLUSIVE! And just believe us .... the Chinese is more expensive!

1 * Unlimited food.
2 * All drinks from the house.
3 * Dancing & shewing.
4 * Sexes & relax.
5 * Enjoy our beautiful wellness.
6 * Just everything, a whole evening long (8 hours of fun).

*Pay attention! The promotion runs from 8 April to Sunday 7 October 2018.
* Exclusive membership. * Not valid on holidays & pool parties!
Reservation!
Fun4Two Hardcore Night!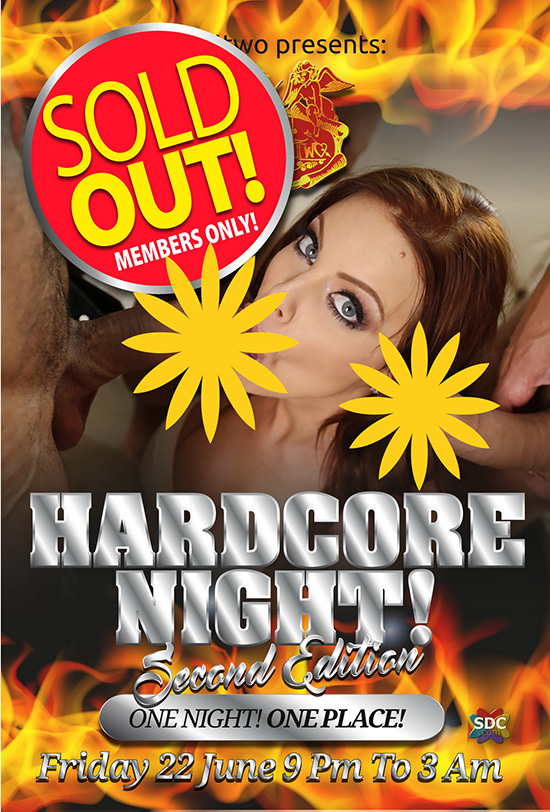 RETURN FIRST EDITION HARDCORE NIGHT!
You have probably already heard about it!

The club completely converted as a porno set, perfectly decorated and then fully booked. Unfortunately, we had to disappoint many guests but there was simply no more room! Unfortunately also hundreds of foreign guests who sent e-mails far in advance, and wanted to travel far beyond the borders to Moordrecht to be present on this evening. But HARDCORE NIGHT is an evening only for ACTIVE MEMBERS. This way we keep the strength of this theme very strong!
With Hardcore porn * Live shows * HARDCORE NIGHT has become the best, busiest and most popular evening! An evening that one will not find anywhere in the Netherlands! I've seen quite a lot, but so many fucking and sexing people together was new to me, well-known Bobby. It was like a big porn movie. So you can imagine that everyone but I also walked around with a BIG SMILE. This is what people are looking for!
HARDCORE NIGHT is an evening that is not meant for softies or only viewers! And now it is unbeatable!

Reservations for June 22, 2018 is now possible!

NEXT EDITIONS HARDCORE NIGHT!
JUNE 22 - Second edition | AUGUST 24 - Third edition | NOVEMBER 23 - Last edition
Information and reservation!
Fun4Two One Night in Heaven 2018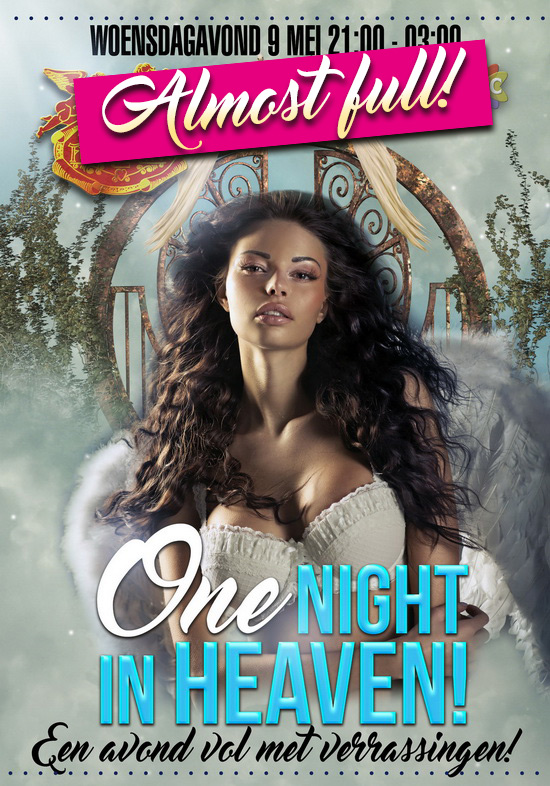 One Night in Heaven
Wednesday evening May 9th 21:00 - 03:00.
Every year a stunner from a party..
Also in 2018 we will of course come back with this super fat party ... Every year bomb and crowded with the best people.
The evening before Ascension Day (you can sleep late), we organize for you another super-fat ONE NIGHT IN HEAVEN ... party! Not for an ordinary evening, no ... in an entertaining Fun we make it a special party. A Heavenly night where your dreams come true for a Heavenly prize! You only pay € 95 for a whole night of fun. And then everything included: delicious food, tasty drinks, dancing, shongs, condoms, hot sex and lots of fun. But also guarded parking, lockers, Fun4Two's t-service, sauna, whirlpool, steam bath, massage oil, tantra temple. Block quickly Wednesday evening 9 May in the agenda, go looking for a heavenly outfit, because then you are just there!
Reservation!
Exclusive Kinky @ the Fun!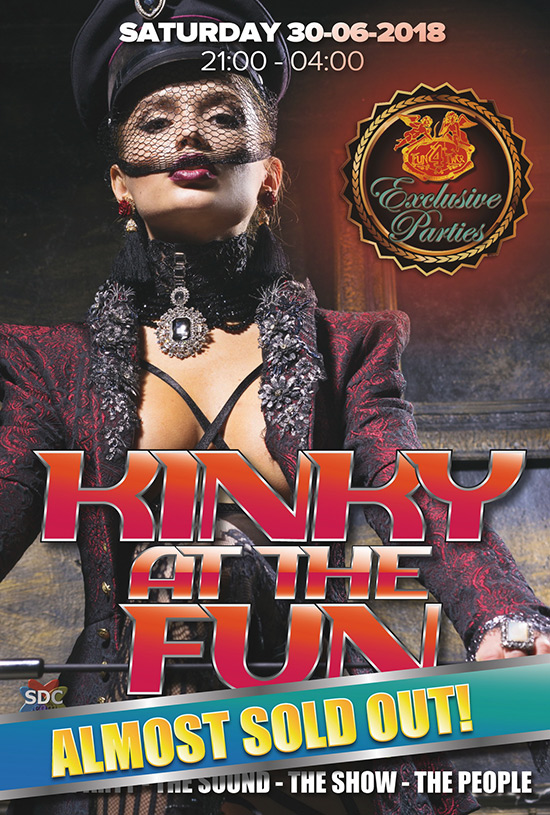 KINKY AT THE FUN | 30-06-2018 | 21:00 - 04:00 |
The second edition of 2018!

You just can not get around it anymore !!! The opening party last March 17 what a party that was! What a nice people! What a fantastic music! Top DJs! And of course completely sold out! This party is one big success every time that many people always talk about like all our Special events. The combination of people from young to older with all the same mission: Respect - dancing - SEX until the late hours with like-minded people. All editions are always sold out! It has really become a top party and people want to be there. Not surprising, of course, because with the very best DJs a beautiful ambiance is this 100% guarantee for a TOP party!
Be on time for this top party and reserve quickly!
More info and Tickets!
Fun4Two Cleopatra 2017 video! It was fantastic!
Full sound and watch it!
As you might know, the exclusive parties in Fun4Two are not just a party. No, it takes a lot of preparations in advance! For more than 3 days we are busy with the decoration for the party. To give you an idea, we are happy to give you a look behind the scenes and an impression of all the decoration for "CLEOPATRA" 2017.
View all Fun4Two videos!
Fun4Two Event Calendar 2018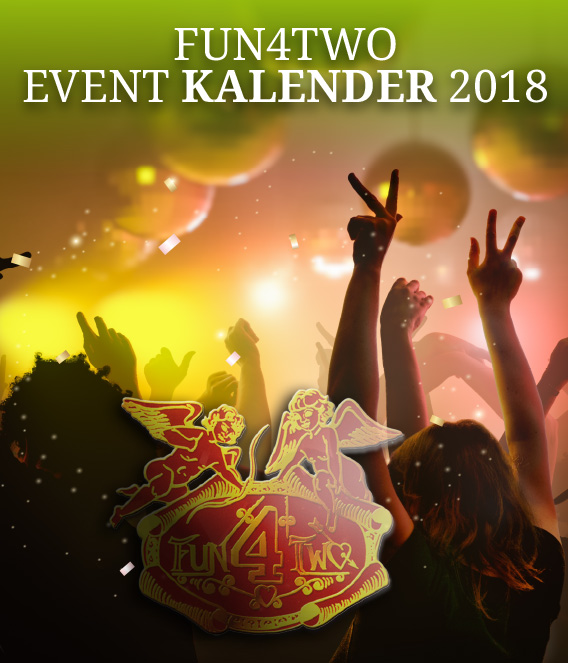 • 21 April -
Jungle Party

• 09 May -
One Night In Heaven

• 13 May -
Mothers Day

• 20 May -
1st day of Pentecost

• 16 June -
Candy Girls

• 17 June -
Father's Day

• 28 June -
Ladies Night

• 30 June -
Kinky @ The Fun

• 25 August -
Cleopatra

• 27 September -
Ladies Night

• 20 October -
Kinky @ The Fun

• 17 November -
Eyes Wide Shut

• 08 December -
One Night Only

• 26 December -
Naughty Christmas

• 31 December -
New Years Eve
Fun4Two Social Media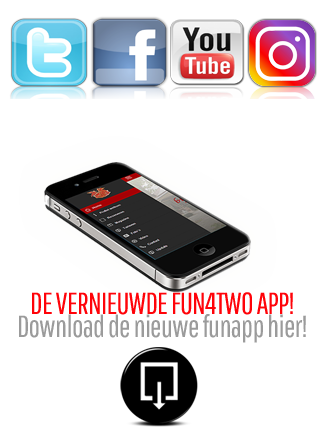 THE FUN4TWO APP!
With this new App, you can receive all kinds of information about Fun4Two and also very easy make a reservation or book a hotel. So Fun4Two trying to keep the 'Fun' high level as it has been for years.
Fun App downloaden!
Fun4Two contact!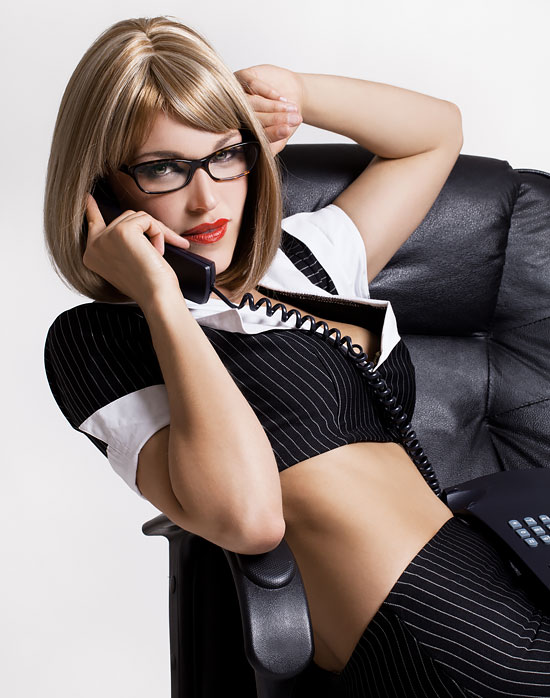 Address:
Parenclub Fun4Two
Middelweg 18
2841 LA Moordrecht
Information number:
+ 31 (0)182-378724
Reservation number:
Reservations are required for Saturday night, our special reservation number is: +31 (0) 182 378 528
E-mail:
Information: info@fun4two.nl
Bobby: bobby@fun4two.nl
Linda: linda@fun4two.nl
Reservation: reserveren@fun4two.nl
New members, we recommend to visit, register on our reservation page. This is possible not later than one hour before julllie visit. Registration is also possible at the club but then you must take into account long queues at the entrance!
To make an online reservation using the button below!


Reservations/Register!